Rabo AgriFinance Adopts Hurricane-Hit Families for Christmas
Twenty area families fighting to recover from Hurricane Michael received an early dose of Christmas cheer when they picked up sacks and boxes of gifts donated by Rabo AgriFinance, a national farm lender. The company and its employees donated a total of 325 gifts amounting to $20,000.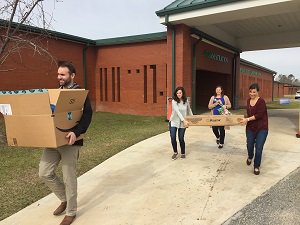 Rabo AgriFinance provides financial solutions to leading agricultural producers across the U.S. An office in Thomasville, Georgia serves farmers throughout northern Florida and southern Georgia. Local employees connected with Evangel Church in Marianna, Florida and Seminole County Elementary School in Donalsonville, Georgia, to identify families needing help this Christmas as a result of the hurricane.
"After Hurricane Michael hit, colleagues from across the country asked how they could help," says Rob Duckworth, a local ag lender with Rabo AgriFinance. "Their communities are important to our clients, and we wanted to make an impact there. We're thankful to Evangel Church and Seminole County Elementary School for coordinating the donations and ensuring that the gifts are meaningful for each family."
The families picked up the gifts privately December 19-20. The gifts included necessities such as clothes and cleaning supplies, gift cards to buy building materials or groceries, as well as toys hand-picked to bring smiles to each child's face.
"Families with limited incomes have been focusing their spending on home repairs and other hurricane-related expenses," says Dana Torbett, outreach volunteer coordinator with Evangel Church. "The gifts donated by Rabo AgriFinance employees are intended to take little minds off grown-up worries and let families forget the devastation around them for just a little while. The children's joy and taking the stress away for parents are gifts that will last far longer than a few hours on Christmas morning."
CONTACT FOR MEDIA INQUIRIES:
Heather Stettner
Public Relations Director, Rabo AgriFinance
(308) 385-7968
About Rabo AgriFinance
As a leading financial services provider for agricultural producers and agribusinesses in the United States, Rabo AgriFinance adds value using industry expertise, client-focused solutions, and by creating long-term business relationships. Rabo AgriFinance offers a comprehensive portfolio of services that gives producers the right products to prepare for, and take advantage of, market opportunities. This comprehensive suite of services includes loans, insurance, input finance and effective risk management products. Rabo AgriFinance is a subsidiary of Rabobank, a premier bank to the global agriculture industry and one of the world's largest and strongest banks. Rabobank is an equal opportunity provider.