Rabo AgriFinance Adds Lender to Team for West Tennessee
St. Louis, Mo. (Aug. 13, 2018) – Rabo AgriFinance announces the expansion of its customer relationship team with the addition of Kurt Lee Baggett as a relationship manager. Based out of Troy, Tennessee, Baggett covers western Tennessee.
Rabo AgriFinance is a provider of capital and financial solutions to leading U.S. agricultural producers and agribusinesses. Baggett will work closely with area crop farmers to provide capital needs for purchasing, operating their enterprises and working toward their long-term goals.
"I'm looking forward to delivering the added value Rabo AgriFinance provides to the region's leading farmers," Baggett says. "Our customers benefit from the powerful knowledge and network they have access to through the RaboResearch team, our Global Farmers online platform and one-on-one dialogue."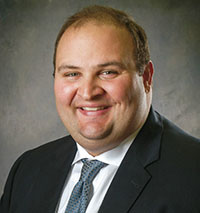 Prior to joining Rabo AgriFinance, Baggett spent 10 years as an ag lender with Commercial Bank & Trust. He is a graduate of the Mid-South School of Advanced Agricultural Lending at University of Tennessee at Martin. Committed to his community, Baggett has participated in the Ag Star Program and Obion County Adult Leadership, and he serves Union City Rotary Club and the United Way of Obion County.
"The West Tennessee market is an important area the company is focusing on," notes Dan Villwock, business development manager for Rabo AgriFinance. "Kurt's farm background, knowledge of the local market and years of experience as a lender make him a perfect fit to deliver Rabo AgriFinance's global knowledge, network power and financing strength into the region."
To learn more about Rabo AgriFinance and its comprehensive suite of financial solutions, go to www.RaboAg.com.
CONTACTS:
Rabo AgriFinance Media Inquiries
Heather Stettner
Rabo AgriFinance
(308) 385-7968
Heather.Stettner@RaboAg.com

About Rabo AgriFinance
As a leading financial services provider for agricultural producers and agribusinesses in the United States, Rabo AgriFinance adds value using industry expertise, client-focused solutions, and by creating long-term business relationships. Rabo AgriFinance offers a comprehensive portfolio of services that gives producers the right products to prepare for, and take advantage of, market opportunities. Rabo AgriFinance representatives offer a wide array of financial services and knowledge to help customers realize their ambitions. This comprehensive suite of services includes loans, insurance, input finance and effective risk management products. Rabo AgriFinance is a subsidiary of Rabobank, a premier bank to the global agriculture industry and one of the world's largest and strongest banks. Rabobank is an equal opportunity provider.
#####