Rabo AgriFinance Adds Experienced Memphis Lender to Staff
St. Louis, Mo. (March 20, 2018) – Rabo AgriFinance announces the expansion of its Jonesboro, AR, team with the addition of Lawson Plafcan as a Senior Relationship Manager. Plafcan is based out of Memphis, TN; covering Southeast Arkansas and Mississippi to provide agricultural financial services for Rabo AgriFinance. Prior to joining Rabo AgriFinance, Plafcan spent seven years as a loan officer with Farm Credit Mid-America in Tennessee.
"As part of Rabobank, the leading global agricultural bank, Rabo AgriFinance has experienced tremendous growth in the U.S. over the past decade," says Neal Wimberley, Business Development Managing Director of Southern Missouri, Arkansas, Mississippi and Louisina. "Lawson's insight and experience will be a tremendous asset to the Jonesboro team. I am proud of the group we have assembled, and we will look to Lawson to enhance our coverage in the Delta."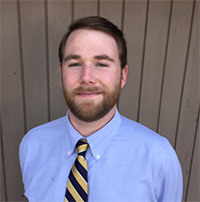 Lawson Plafcan is still involved with his family's century-old rice farm in Carlisle, Ark. He graduated from the University of Arkansas-Fayetteville with a degree in Ag-Business/Finance.
"Row crop production is my expertise when it comes to my first-hand knowledge. I'm looking forward to expanding the Rabo AgriFinance portfolio not only with row crop production, but also within the cattle, poultry and swine sectors," Plafcan said.
"Lawson's background, knowledge and experience will enhance our coverage in the Delta," Wimberley added.
CONTACTS:
Rabo AgriFinance Media Inquiries
Sarah Kolell
Rabo AgriFinance
(816) 350-4811
About Rabo AgriFinance
As a leading financial services provider for agricultural producers and agribusinesses in the United States, Rabo AgriFinance adds value using industry expertise, client-focused solutions, and by creating long-term business relationships. Rabo AgriFinance offers a comprehensive portfolio of services that gives producers the right products to prepare for, and take advantage of, market opportunities.
Rabo AgriFinance representatives offer a wide array of financial services and knowledge to help customers realize their ambitions. This comprehensive suite of services includes loans, insurance, input finance and effective risk management products. Rabo AgriFinance is a subsidiary of Rabobank, the premier bank to the global agriculture industry and one of the world's largest and safest banks.
Equal Opportunity Provider.
#####